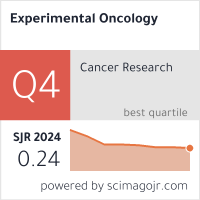 Journal is indexed in Medline, PubMed, NLM catalog, Index medicus, EMBASE/Excerpta Medica, BIOSIS, SUBIS, IBIDS, SCOPUS, Copernicus.
За останні роки спостерігається стійка динаміка зростання всіхпоказників рейтингу журналу «Experimental Oncology».
У ранзі показників SCImago Journal & Country Rank і Scopus журнал знаходиться на I-му місці серед 26 індексованих наукових журналів Украіни.

---
The SJR indicator measures the scientific influence of the average article in a journal, it expresses how central to the global scientific discussion an average article of the journal is. Cites per Doc. (2y) measures the scientific impact of an average article published in the journal, it is computed using the same formula that journal impact factor TM (Thomson Reuters).
---